By Lucien Greaves
Thursday, May 08, 2015, multimillionaire Manhattan socialite, Gigi Jordan, was sentenced to 18 years in prison for the manslaughter of her eight-year old autistic son, Jude Michael Mirra.  
Jordan never denied that she had intended to kill her child by way of forced pill overdose five years previous in a New York City hotel. To her troubled mind, the forced pill overdose was a "mercy killing", preserving the child from the inevitable horrors he was to suffer at the hands of an unseen, yet omnipresent, Satanic cult conspiracy.
Warning signs of Jordan's dangerous state-of-mind had been clear for years. Jordan expressed deeply paranoid, irrational fears that the cult was actively tracking her every activity while ritually abusing Jude into a state of trauma-induced cognitive disability (he was, in fact, severely autistic).
Many questioned what, if anything, was true in Jordan's suspicious, delusional allegations. However, few questioned the competence of the therapists and other experts whom Jordan had consulted, who failed to recognize Jordan's dangerously delusional state, failed to balance her fantastical beliefs with critical inquiries, and even apparently encouraged and cultivated her most deranged and deadly convictions. Oddly, even when reporting on the trial, journalists seemed entirely blind to evidence of professional incompetence, the influence that sanctioned pseudoscience seems to have played in Ms. Jordan's destructive beliefs. … Continue reading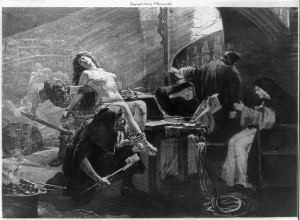 This piece was written in collaboration with Sarah Ponto Rivera
Where the Witch-hunters are: Satanic Panic and Mental Health Malpractice
By Douglas Mesner and Sarah Ponto Rivera
"I have met many demons, devils, evil characters, representatives of Satan, and Satan himself in my MPD [Multiple Personality Disorder] work."
— Colin Ross, MD, 1994
Past President, International Society for the Study of Trauma and Dissociation (ISSTD)
"I remain troubled about the matter of transgenerational satanic cults."
— Richard Kluft, MD, 2014 Past President, ISSTD
It is with an ironic sense of disdain that we can now look back upon the day-care sex-abuse hysteria of the 80s and 90s, with its imaginary conspiracy of pedophilic Satanic cult activity, and remark that one of its primary instigators was a devout Catholic. A foundational text for the "Satanic Panic", as it came to be called, was co-authored by the pious psychiatrist Lawrence Pazder who, with his client-turned-wife, Michelle Smith, wrote of Smith's alleged early ritual abuse at the hands of a secret Devil-worshipping society. Michelle Remembers (1980), billed as a true story and humored as such within the talk-show circuit of the time, was a ludicrous supernatural horror story in which both Christ and Satan made dramatic guest appearances. The senseless, confabulatory ramblings upon which the "facts" of the book were constructed, were gleaned from hypnotic regression sessions, in which Pazder claimed Smith had recalled horrific events that had previously been "repressed" deep within her unconscious mind. … Continue reading
As revelations of a major Mental Health Care scandal come to light, a malpractice settlement threatens to conceal the issue from scrutiny once more.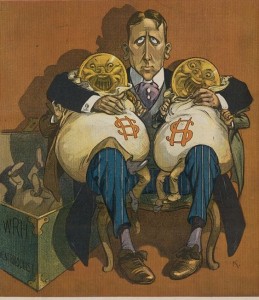 On November 21, 2011, the first of four disturbingly similar malpractice lawsuits was filed against Castlewood Treatment Center, LLC. Among the allegations, a former client of the St. Louis based eating disorders clinic, Lisa Nasseff, claimed that "under the influence of various medically prescribed psychotropic medications" she was "negligently hypnotized" and coerced into believing that, among other things, she "was a member of a satanic cult and that she was involved in or perpetrated various criminal and horrific acts of abuse." Leslie Thompson, Brooke Taylor, and Colette Travers all followed suit, each also alleging the cultivation of traumatic delusions while undergoing treatment at Castlewood, particularly under the care and supervision of one Mark Schwartz and his (then) wife Lori Galperin. The stage was set for an intense legal battle when, according to KMOV 4 in St. Louis, "Castlewood denied implanting false memories in the women and called the allegations bizarre."
Indeed, the allegations are bizarre, but not atypical in the world of conspiracy theory-driven psychotherapy surrounding the mythic diagnosis of Multiple Personality Disorder [MPD] (now rebranded as Dissociative Identity Disorder [DID] in the American Psychiatric Association's [APA] Diagnostic & Statistical Manual [DSM]). Though lacking in empirical support, and despite indications to the contrary, the persistent theory maintains that certain conditions of psychological malaise are evidence of past trauma, even (in fact, especially) when the client has no conscious memory of those painful presumed events. Compartmentalized in "repressed" segments of the mind, these traumas are said to develop into isolate "personalities" independent of the client's core self. Only by bringing the traumatic memories to full conscious assimilation can the client then be rid of the manifestations of distress these subconscious recollections provoke. … Continue reading
To be fair — when considering the "expert" qualifications of the perpetually panic-stricken Dr. Randy Noblitt — one should take into consideration that the man's doctoral thesis was, in fact, a work of Astrology. However, in a career made notable for unsubstantiated hysterical claims involving a preternatural conspiracy of Satan's minions, his dissertation upon the Celestial Concomitants of Human Behavior may possibly be the most lucid work in Dr. Noblitt's unquestionably disreputable bibliography.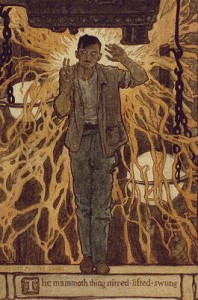 I feel it important to make note of his dubious beginnings so one might recognize that this tin-foil hat Torquemada never, at any point in his professional career, seems to have become unhinged… he never exhibited a firm grasp of reality to begin with. Thus, when reading the barrage of lunacy attributed to "Little Knob" below, the question isn't: where did this professor of Clinical Psychology at Alliant University go wrong?, instead, the question should be: how is it that this man ever became a professor of Clinical Psychology at all? And, worse, How is it that his testimony, as a man of Science, was considered favorably in a situation where personal liberties were at stake?
In 1992, at the height of a social hysteria now commonly referred to as "the Satanic Panic", Dr. Noblitt — believing he could disentangle the coercive subliminal sounds of secret demonic code within popular music, as well as decrypt the hidden meanings behind seemingly mundane occurrences — testified for the prosecution, as an "expert" in the field of "ritual abuse", against one Fran and Dan Keller, a couple accused of engaging in child abuse at their home-based day care center. With no physical evidence to support the accusations (which included claims of graveyard rituals and medically undetected limb transplants) the couple was convicted on the most dubious of testimony. The children themselves — ignored when they claimed they were not abused at all (as happened even in testimony) — were led by coercive and incompetent interrogations to produce claims of abuse which are nearly impossible to credit [see footage and analysis of one such interrogation embedded below]. Noblitt's own fantastical testimony, of course, was no more credible than Noblitt himself. … Continue reading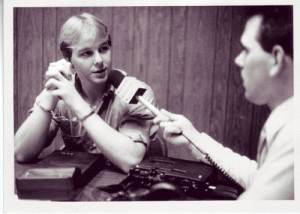 Shortly before his death by lethal injection, Sean Sellers would express deep annoyance that so many people still insisted upon making such a big deal of the 3 murders he had committed — two of them his own parents, the other a convenience store clerk named Robert Bower. "I'm amazed at the self righteousness I still encounter from people who don't even know me," Sellers wrote in his journal, February 1, 1999, two days before death. "People," he addressed his future readers, "for one moment, get your eyes off my own sins and look at your own. You want to harp on something that happened 13 years ago. Thirteen years! If you didn't know Robert Bower or Mom and Dad then it doesn't even affect you. It's so easy to appear righteous next to a murderer, but here are two facts in the Kingdom of God: First of all, I repented of those sins 13 years ago soon after they happened, and I've been serving God ever since. And second of all, it isn't ME you have to compare yourself to, it's God's holiness. Don't look at my sin and think yourself clean, look at GOD!" [1]
Only sixteen years of age at the time of his crimes in 1985, Sellers remains the youngest criminal sentenced to death in the United States since the reinstatement of the Death Penalty in 1976. That troubling fact, along with his ostentatious jailhouse conversion, made him an instant cause célèbre for anti-Capital Punishment activists, and a poster boy for apocalyptic crusaders who saw in him a confused and helpless by-product of uniquely troubled times. … Continue reading
The bizarre nature of the lawsuits created a minor, short-lived sensation among the national press at the times of their filings. The first, dated November 21, 2011 — Lisa Nasseff vs. Castlewood Treatment Center, LLC. — alleged to gross malpractice suffered while undergoing "treatment" at the St. Louis eating disorders clinic. To quote directly from the suit:
"defendant carelessly and negligently hypnotized plaintiff at a time when she was under the influence of various psychotropic medications and said hypnotic treatment directly caused or contributed to cause the creation, reinforcement, or increase in plaintiff's mind, of false memories including the following:
a) Plaintiff suffered physical and sexual abuse;
b) Plaintiff suffered multiple rapes;
c) Plaintiff suffered satanic ritual abuse;
d) Plaintiff was caused to believe she was a member of a satanic cult and that she was involved in or perpetrated various criminal and horrific acts of abuse;
e) Plaintiff was caused to believe that she had multiple personalities at one time totaling twenty separate personalities."
Dear Dr. Phil,
I write this letter to you with little hope of conveying information of which you were previously unaware. Rather, I write this letter so that the general public may be made aware of what you should already be well aware of, in hopes that they may appropriately measure your credibility following your forthcoming broadcast* related to the topic of an alleged satanic cult conspiracy — an episode which promises to be full of misinformation, delusions, harmful false accusations, and lies. … Continue reading
Former Special Agent Ted Gunderson suspected he would be "taken out" eventually. As a whistleblower disclosing crimes of the highest order, Gunderson would attest to suffering endless harassment and attempts on his life, from operatives entering his home to sneak poisonous liquids into the wall heaters[1], to phone tapping, personal computer hacking, and years of surveillance by "groups and individuals" in ground vehicles, helicopters, and on foot.[2] Agents of his undoing were everywhere. Law enforcement were worse than helpless… they were complicit.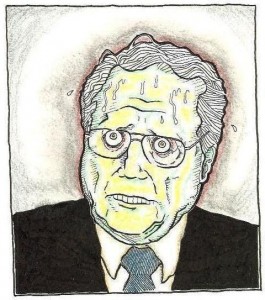 "I just don't understand it", Gunderson stated in an interview from "an undisclosed southwestern city" while on the run from his would-be assassins. "I thought they (the FBI) would help me. Instead… they're trying to destroy me."
The FBI, Gunderson asserted, was assisting in having him silenced for exposing the collusion between a satanic cult and the United States Army in a high profile triple homicide — ritual murder, by Gunderson's account — involving a mother and her 2 daughters at Fort Bragg United States Army installation in North Carolina.
It all sounded unbelievable, but what separated him from countless other suspected delusives of the paranoid kind was that Gunderson, a private investigator, himself was a 27 year veteran of the Bureau who had headed three regional offices, serving three directors from J. Edgar Hoover to Judge William Webster. He was, in fact, an impressively credentialed G-man whose retirement party in 1979 had drawn an elite crowd of over 600. His book, How to Locate Anyone Anywhere, included endorsement blurbs from Johnny Carson and even President Gerald R. Ford, who took the opportunity to publicly congratulate Gunderson on "his fine career." … Continue reading