There is too much religious tolerance in the world today.
This may read as nonsense given the seemingly endless stream of news items in which guy from faith A attempts to kill person from faith B and recent quasi-scrutiny of the belief system birthed by that science fiction author; if so, suspend your disbelief for a moment. Tolerance of religious belief has causally allowed a regular discouragement of scientific inquiry, but what is more damaging than that is that it has allowed illogical 'explanations' of real world phenomena to gain social validity. I suggest that by allowing one large portion of people's lives, of their tenets, to slide by completely unquestioned despite obvious flaws and contradictions, an underlying message of complacency towards the 'okay-ness' of irrational and unsupported policy claims is being allowed to permeate portions of society in which it has no place being.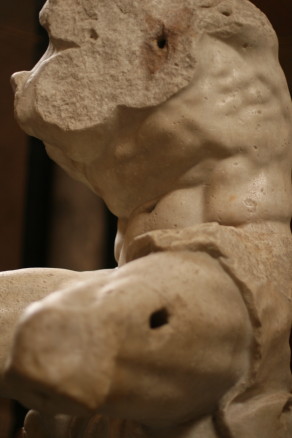 As i was walking around Rome several weeks ago, it was impossible to dodge the overarching influence of Christianity which still shadows life there: from roving small packs of American priests in their 20s on study, to the density of churches, to, of course, the Vatican itself. While i don't expect the wide spread conversion of churches to Starbucks, it is saddening to note that nearing the end of 2008, with centuries of inquiry and discovery under our collective human belt, with rapid information dissemination at our fingertips, with an increasingly egalitarian view onto our peers, that we can still find such large subscriptions to religious faith.
As is evidenced by published poll data, and anecdotally noted by the turn out at public celebrations of religious events, the vast majority of the human race1 turn towards religious doctrine for their moral guidance and cosmological explanation. While surveying in the US did appear to give evidence to a shade of a down tick in religious adherence from 1990 through 20002, there was an apparent bounce-back (though not to 1990 rates) reported by 2008.3 Outside the US, the data is not very available (or, at least, very locatable) on a more global scale; though with the world becoming more economically and politically instable4 over the past decade, one can imagine an increasing trend in faith during this time.5
Confusing this situation even more: during this same recent era, the ability to communicate information across geographically separated communities has become ever easier. This is perplexing since, as communication of information has become increasingly easy, and more widespread, one would think that it must take more effort to actively discount and screen out ideas contrary to one's personal religious beliefs. Unfortunately, this sort of willful ignorance cannot be easily grouped under the established correlation between poor education and religious belief.6 Since the majority of the population succumbs to some flavor of superstitious belief system, what we often see as a reluctance to pose rational questions on the belief systems of others could likely be the fear that their own fragile framework could not withstand a similar scrutiny.
Key to both illusionary magic tricks and religious indoctrination: the participation of two parties is required — someone willing to be fooled, and someone willing to fool. While it is more difficult to see the motivations behind those willing to be duped, it's not hard at all to see the roots of interest in an established belief system's discouragement, or forbidding, of rational inquiry into an area which it has already claimed to be able to define through divine insight. No one wants to look like an ass, especially an organization which believes they are able to steer one's eternal existence; so whether it's an earth-centric view of the universe, a six day formation of all the universe, or whatever, once the guardians of the belief system have stated X as fact, it is in their interest to discourage examination of X.7
The Judeo-Christian belief system carries an extra weapon for this discouragement: in their mythology, the cause of their banishment from an idyllic eden life is the very process of questioning — the search for knowledge, symbolically embodied in that whole serpent-apple routine; to Christians, it is the original, the first, sin.8
Once we, as societies, kowtow — giving power to religious ideals by accepting them to be a coherent piece of the fabric of an individual — then it greatly hinders the ability for remotely rational dialogue to enter the equation when a belief system jumps from somewhat loony9 to dangerously-and-completely-absent-from-reality loony10. If we cannot consistently and regularly apply rational scrutiny to matters impacting daily human existence, then there is muted value in those times that we can do it at all.
It is of cold comfort that, for example, sanity finally regained control of the Kansas School Board when the real problem is the large step backwards taken due a fundamental Christian worldview being given such validity within society that a subculture believed it to be something it wasn't, something it couldn't be.
Truly, not everything can be presently answered by scientific inquiry and research — and it is completely plausible that it will never entirely be able to be answered — but it is certain that when people are allowed to defer to ritual and willful blindness then inquiry and research is stunted at best, and, at worst, it is prevented outright. Especially in these times in which there is a rash of bad events arising partially from our inability to model a large system11 and partially from our inability to engineer new production solutions12, it is important that we turn our minds outward with vigilance to ask coherent and decomposing questions, not turn our minds inward to take refuge in constructed fantasy.
As a postscript: it should be noted that, while i am mentioning Christianity in this article, there is no reason this complaint does not apply to all faith based systems (including those 'alternative' types — the 'magick' spectrum, the wiccan variants, …): they all have, as their basis, a kernel framework of unverifiable supposition over which further ideas, also unverifiable, are added or inferred to form a body of 'laws' and a cosmology.13
---